Rangely, CO — My previous visits to Colorado always involved driving from the Denver airport to Loveland, Fort Collins, or Colorado Springs  so you might understand why I never really understood John Denver's passion for the place.   This trip I came up from New Mexico on 285 into Walsenburg,  a pretty drive, and then took 24 out of Colorado Springs to Aspen.  Wow!
I know many of you reading this blog are familiar with I-24, so you might recognize some of these places.    This first picture was taken west of Ute Pass.  Not a lot of trees here!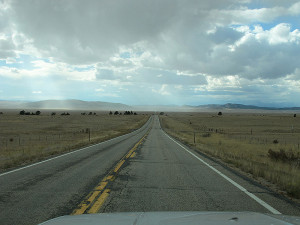 Now, about this time I've got a John Denver tune running through my head.  Unfortunately it's completely wrong.  "Take me home country road" is song about West Virginia!  Oh well!!
I was hesitant to take the road over Independence Pass, because of both the elevation, and the weather.  But having conquered Beartooth Pass I figured what's another thousand feet?  Except for a few hairpin turns, the road up the east side was pretty easy driving.  The sky ended up being overexposed in these next shots, even when I manually under exposed them by almost two stops.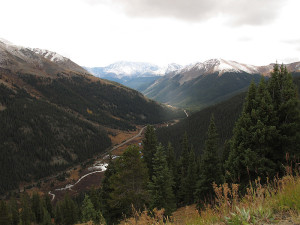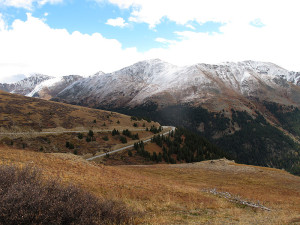 Here's a couple of shots from the top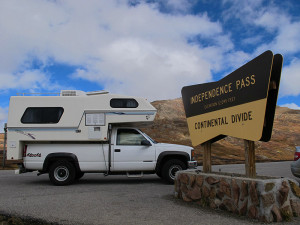 Despite having a vehicle length restriction of 35′, I think this road is much easier to drive than Beartooth.  The only challenge was on the west side where, in several places, the road was less than two lanes wide. I could have easily scraped the camper along a rock wall like in this next picture.  I was lucky that I never had to pass oncoming traffic in the narrow bits.  In the picture you can see that they simply stop painting a center line when the road gets narrow.  Notice the skid marks?
The aspens were amazing on the west side of the pass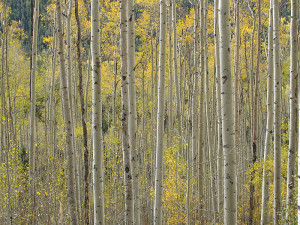 I passed through the town of Aspen, and ended up on I-70.  I then turned north at Rifle, CO and eventually found my way onto highway 64.  This road runs along the White river as it wanders for miles through a beautiful river valley.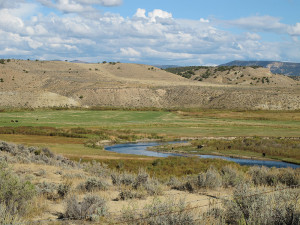 Looking for a place to stop along the river I stumbled upon this unmarked campground on a small reservoir near Rangely.  I was hoping to find a place like this.  There wasn't a sign on the road, just a small sign down off the road that said campground open.  I had the entire campground to myself — it was just me, the fish (they were jumping), and a couple of rabbits.  I'm guessing that if there had been a sign, it might have cut into the business of a couple of RV campgrounds a few miles down the road in Rangely.  It only cost $8 to stay here.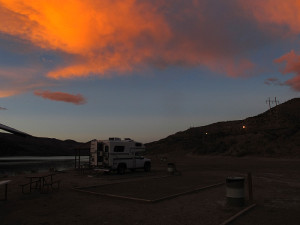 Miles traveled today: 219
Total Miles Traveled: 4674
Average Miles per day: 234
Next stop:  Utah