Red Shale Campground, Custer National Forest —  OK,  I'll admit it.  I wasn't sure I wanted to drive over an 11,000 foot pass in an RV.  SteveL had recommended this road, but you have to remember, he did it on a motorcycle.   Still,  I decided the truck and I were up to the challenge of driving over a  pass that's 200 feet higher than Mt. Baker.  Remember that next time you look at Mt Baker, my truck with camper was 200 feet higher than the top of that volcano.    All I can say is,  it was a blast!  Where else can you drive through alpine meadows and past alpine lakes like the one pictured at the top of this post?  Whoever decided to put this road in is absolutely crazy!
Here's a shot on the way up the West side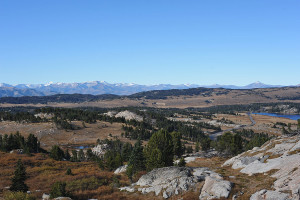 I made it to the top!  It's pretty cold and windy.  That, and the fact that I my truck doesn't have a pressurized cabin meant that  I didn't stay at "the top of the world" very long.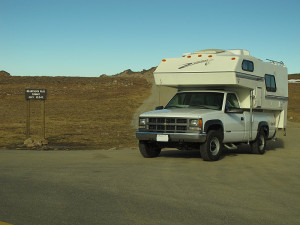 Here are a couple of pictures taken on the east side of the pass.  These were not taken from an airplane!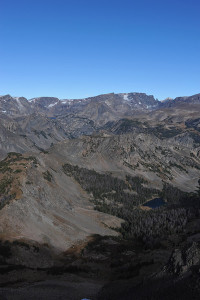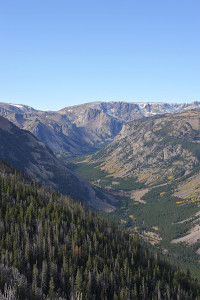 I celebrated my transit with my first restaurant meal of the trip.  I had breakfast at small cafe in the town of Red Lodge, a small town on the Montana side of the pass.
After Red Lodge I made my way to the historic site of the Battle of Little Big Horn.   There's not much to see beyond a monument and grave markers, though the visitors center does have some of Custer's belongings and other artifacts.   I'm glad I stopped.  There's a lot of historical significance to this special place,  and later I couldn't help but visualize the life of the nomadic tribes as I crossed over the Northern Plains on my way to the Black Hills of South Dakota.
Here's the view as Custer would have seen it the day he and his men died.  I like the fact that the Park Service noted that both sides fought for what they believed, for their people.  It was nicely balanced.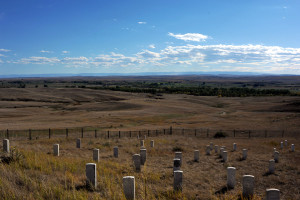 Next Stop:  Mount Rushmore
Miles Today: 252
Total Miles: 1286
Avg Miles/Day: 257